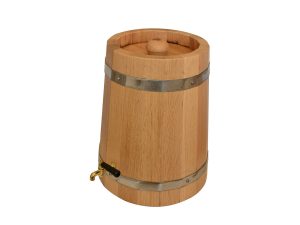 Barile
Vertical Oak Barrel 10 Lt
Our natural oak barrels, one of the handcrafted handicrafts of our country, are getting back to their deserved return with the assurance of Bambum. Barrels made of handmade oak are using the traditional techniques that have been used for centuries by traditional craftsmen, will be the right choice for the products you want to preserve and the most natural.
The oak barrels, which are produced by hand-made techniques by craftsmen whose number is decreasing day by day and manufactured by hand with Bambum assurance, will complement the decor of your house and help you to maintain your natural flavors safely.
In vertical models there are 3 options 5, 10 and 20 liters, ın horizontal models, 1, 2.5, 5, 10 and 20 liter options. Oak barrels will be the most extraordinary element of your home.
Product Code
B0211
Product Dimensions
30x30x38cm
Price
600,00 TL